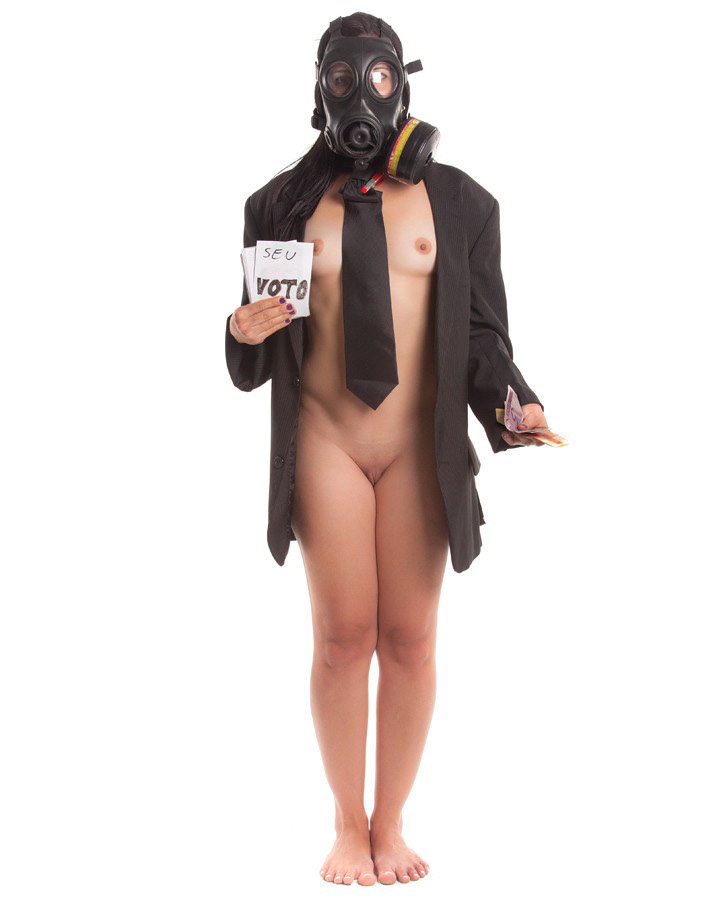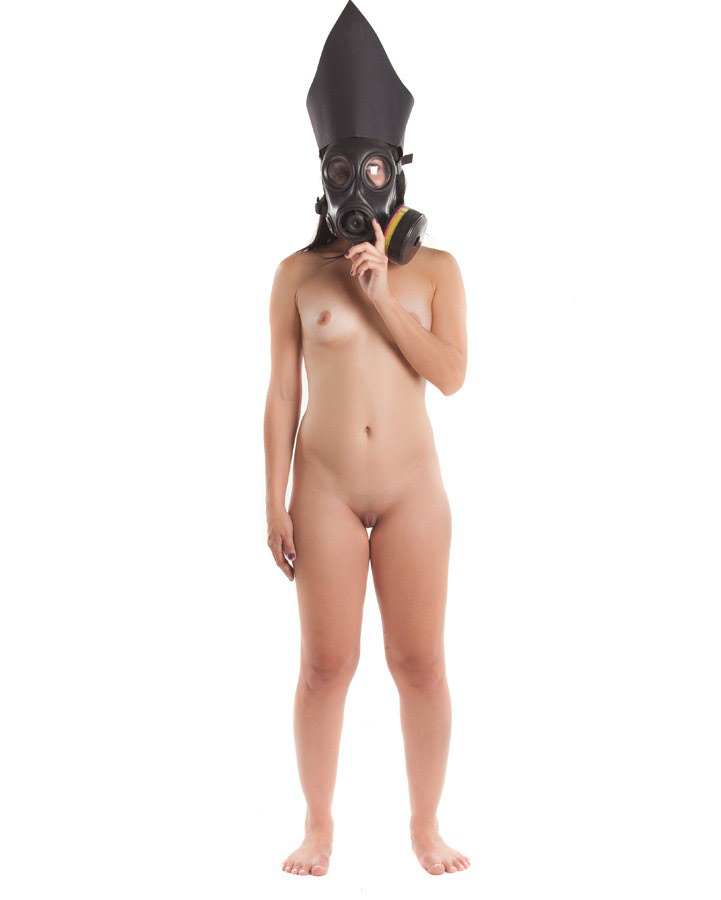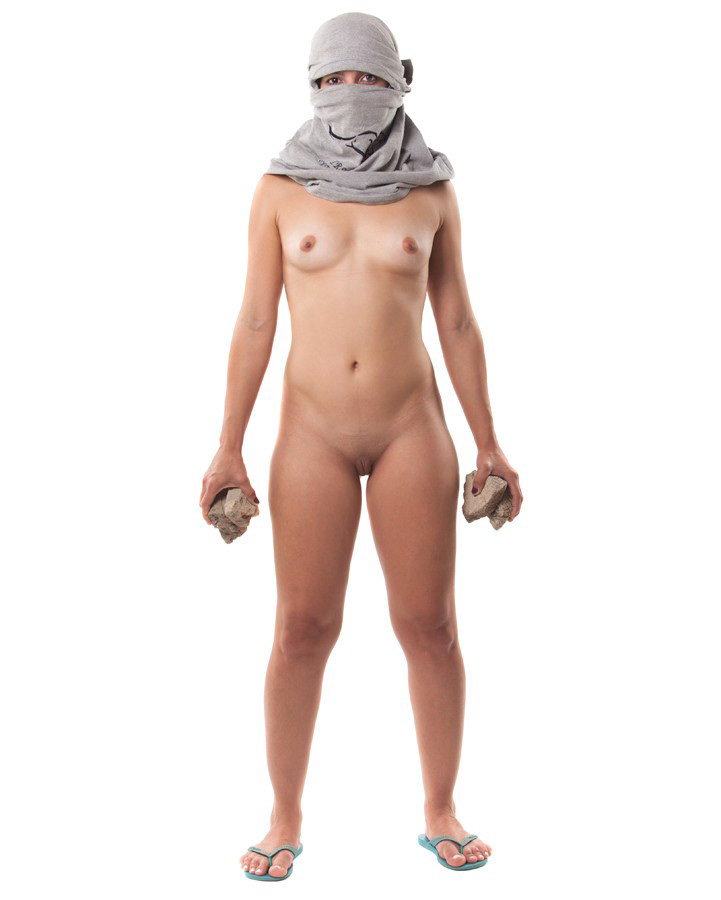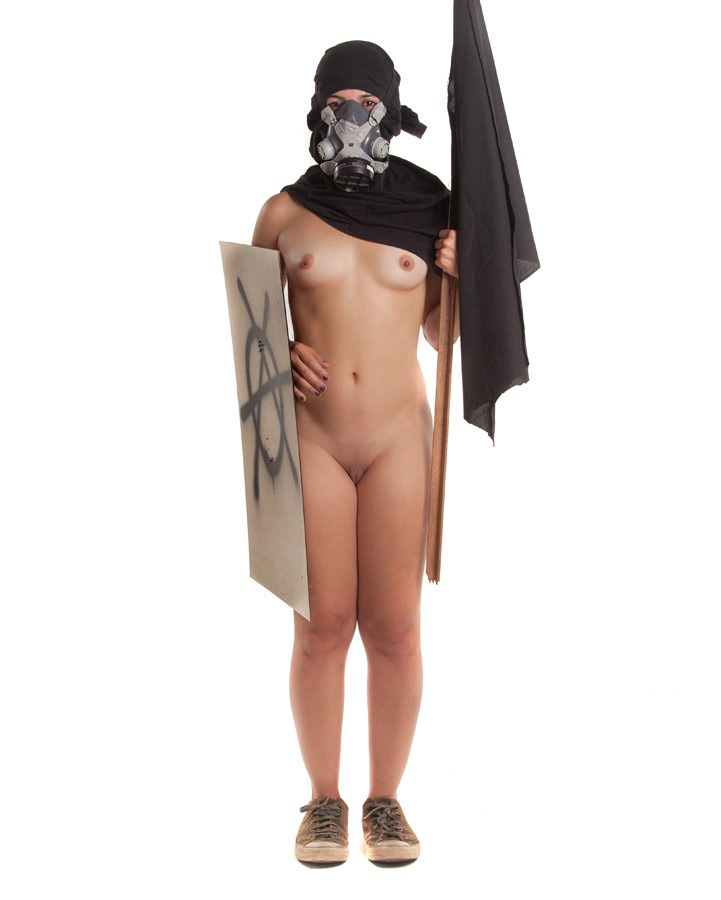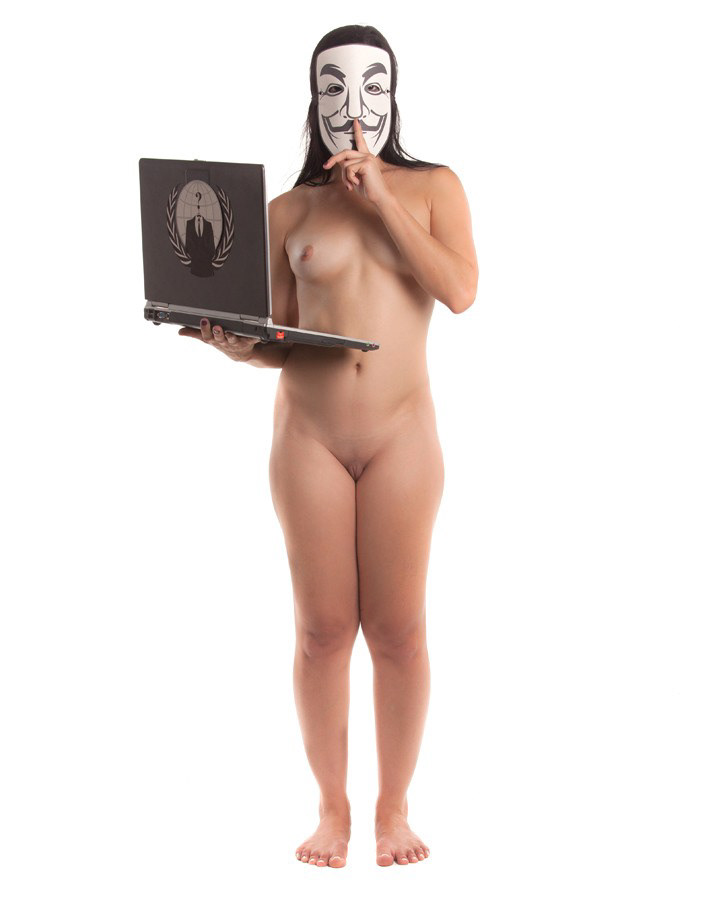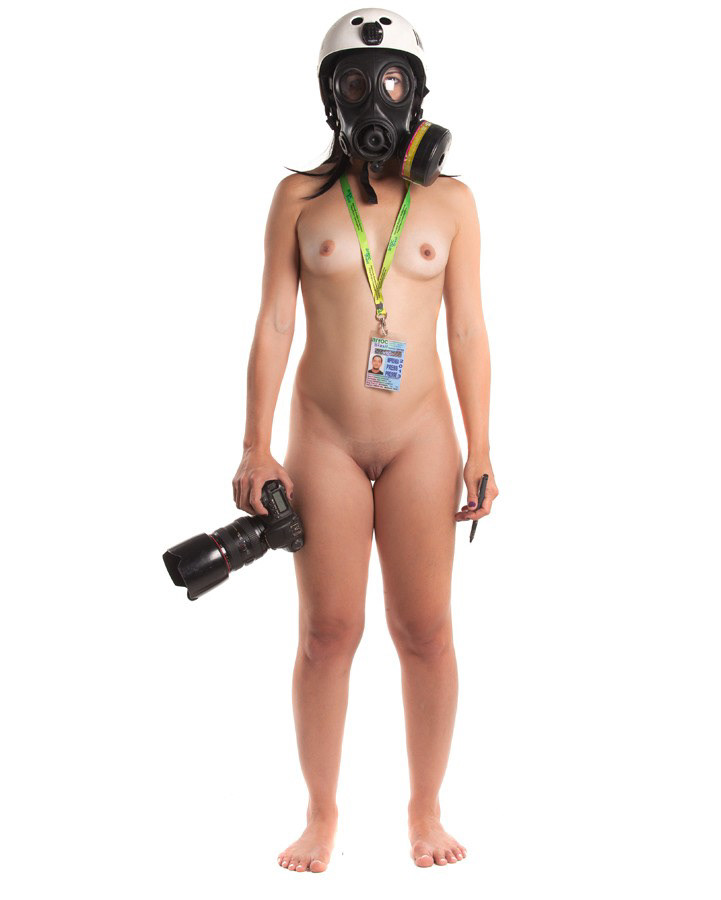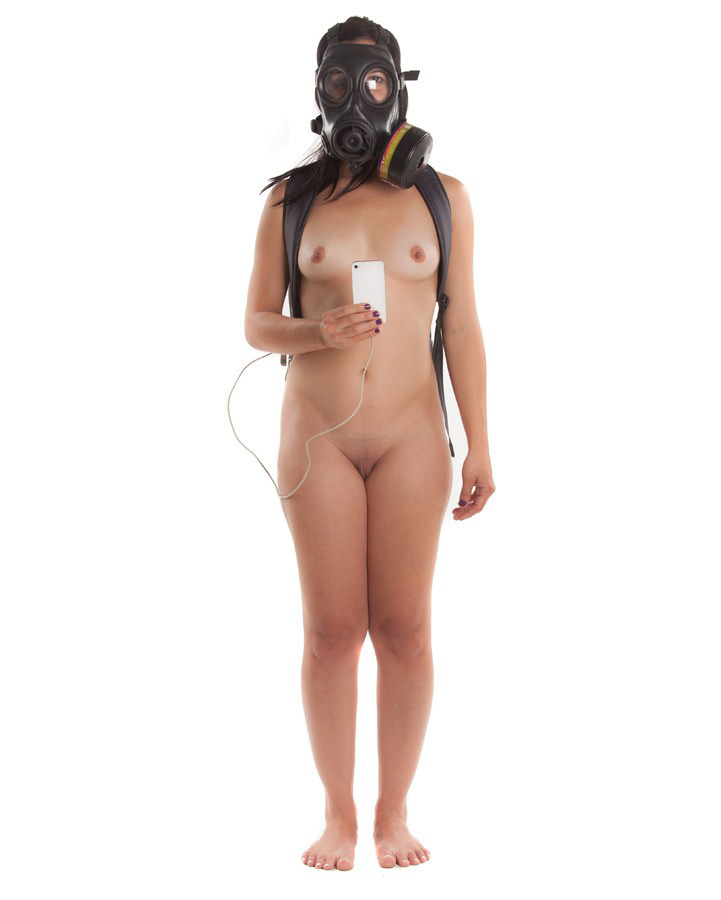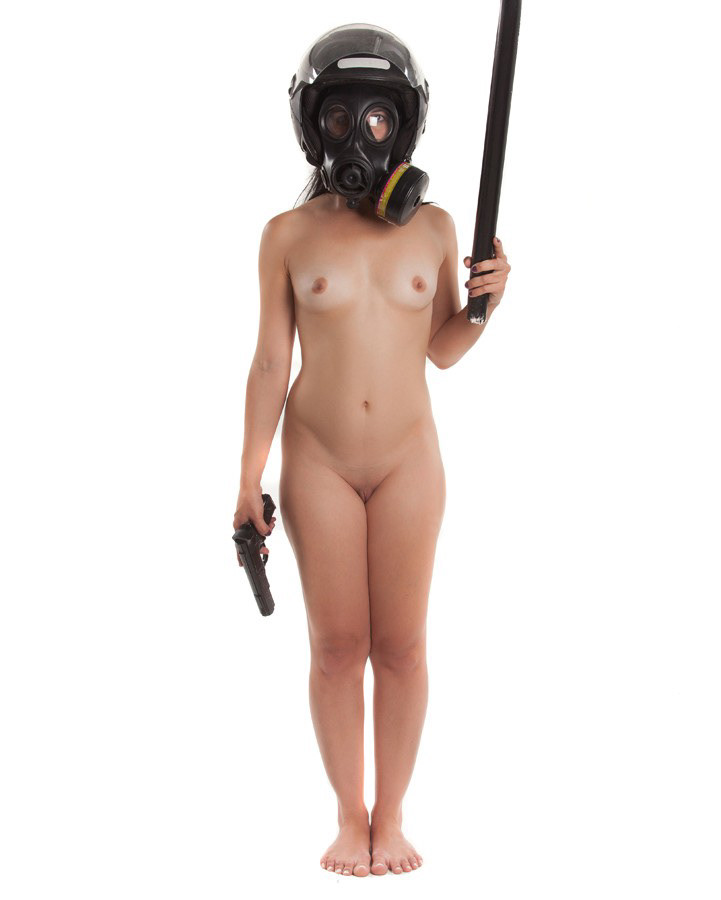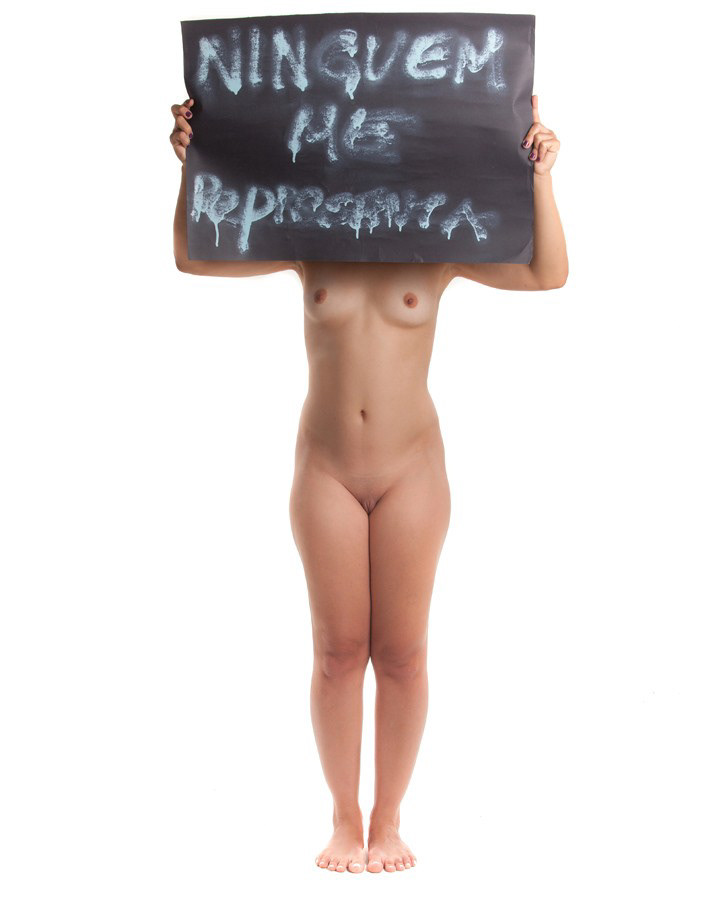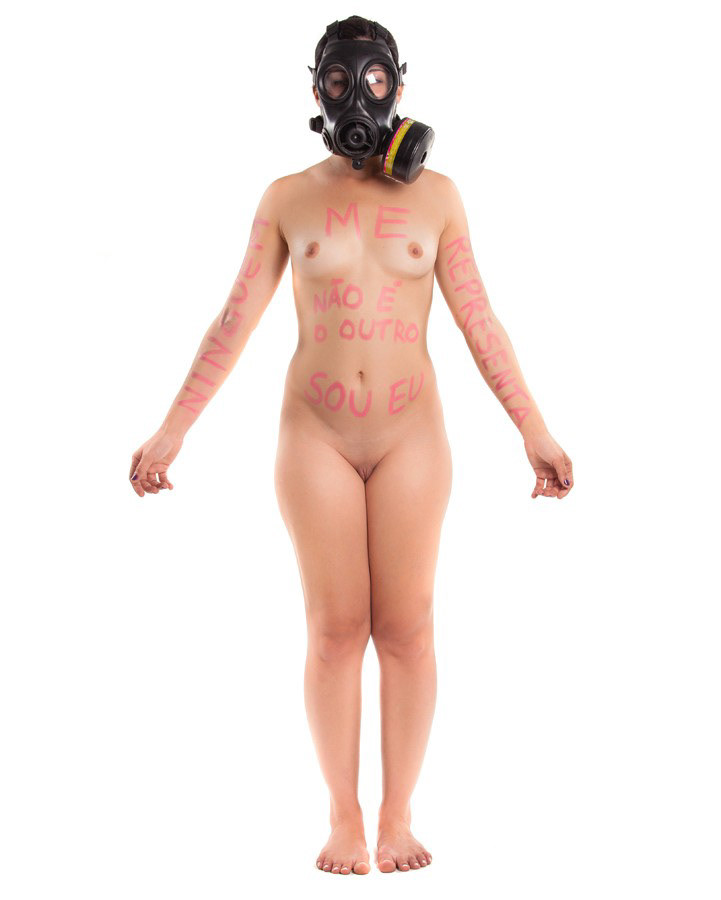 O governo não dialoga com o povo. Usa da segurança pública, seu braço armado, para conter com muita violência as manifestações que acontecem desde junho, quando o povo brasileiro saiu às ruas em protesto contra a corrupção, impunidade e descaso do poder público. E daí surge um grupo que se coloca na linha de frente para a proteção dos manifestantes. O grupo Black Bloc foi o ponto de partida para a minha pesquisa e trabalho de campo nas ruas, durante as manifestações que começaram em junho e reuniram inicialmente um milhão de pessoas, na cidade do Rio de Janeiro.
A mulher foi escolhida para simbolizar a mãe, a natureza, o princípio. Acredito que só o reencontro com a natureza trará novas perspectivas para uma sociedade de consumo falida. A mulher nua apresenta os seios, de onde vem nosso principal e primeiro alimento. A vagina, o meio pelo qual somos geridos e paridos para enfrentar a vida. A nudez tem ainda outro valor no ensaio, que é se desnudar de preconceitos, de dogmas, doutrinas, crenças, tudo que nos prende a vícios de convivências desastrosas. É a proposta de nos expor, ceder, entregar por completo as novas expectativas.O rosto coberto é outro protesto, contra a decisão dos desprezíveis governantes em proibir a livre expressão com o uso de máscaras durante as manifestações.
A principal função da fotografia é contribuir na conscientização das pessoas sobre o momento que estamos vivendo no país e está aliada às recentes tecnologias de difusão de informação. A fotografia documental independente tem o papel fundamental na sustentação dos ideais que vêm das ruas.
————————-
The Government doesn't talk, is not compatible with the people. Uses of public safety, its armed wing, to contain with too much violence manifestations that take place since June, when the Brazilian people came out to the streets in protest against corruption, impunity and disregard of public authorities. And from that insurges a group that puts on the front lines to protect the demonstrators. The group Black Bloc was the starting point for my research and field work in the streets during the demonstrations that began in June and met initially one million people, in the city of Rio de Janeiro.
The women was chosen to symbolize the mother, the nature, the principle. I believe that only rediscover the nature will bring new perspectives to a consumer society broke. The naked woman presents her breasts, where our main and first food. The vagina, the means by which we are born to face life. Nudity has yet another value in the test, which is bare of prejudice, dogma, tenets, beliefs, all that holds us to addictions of cohabitation as disastrous. Is the proposal to expose us, assign, give out completely new expectations.The face covered is another protest, against the decision of the despicable public authorities in banning the free expression by the use of masks during demonstrations.
The main function of photography is to contribute to the awareness of people about the moment that we are living in the country and is allied to recent technologies of dissemination of information. The independent documentary photography has the key role in support of the ideals that emerge from the streets.
Todas as fotos © 2013 Moskow